July 11, 2022
Former Alberta MLA and former premier ship last of the donations to help people in Ukraine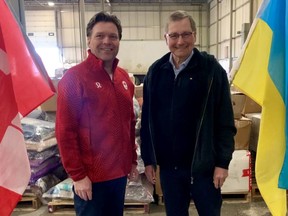 When former MLA for Edmonton-Castle Down Thomas Lukaszuk teamed up with former Alberta premier Ed Stelmach to help the people in Ukraine, he never anticipated that this would become a full-scale businesslike operation.
"It took a life of its own and turned into a multi-million dollar humanitarian aid operation," said Lukaszuk.
But on June 25 the last of the donations were packed into a container and shipped off to Ukraine.
UPDATE: Last container departing Edmonton for #Ukraine Warehouse is empty!
Our "United For Ukraine" tally:
– Boeing 787 filled with medical equipment (30 tonnes)
– 79 refugees sponsored
– 8 containers of donations
Total approximate value: $35,000,000.
THANK YOU!!!#Yeg #Cdnpoli pic.twitter.com/cEJ8J19br5

— Thomas A. Lukaszuk (@LukaszukAB) June 25, 2022
Back in March, after watching the war in Ukraine on the news, Lukaszuk decided he wanted to do more than watch.
"I called up Ed on his cell and said, 'You have a good rolodex, I have a good rolodex, there must be something we can do,' " Lukaszuk said.
So they called up a few people, one being the Canadian embassy in Warsaw, Poland, which was working closely with the Ukrainian ambassador, and asked for a list of what they needed.
They got a list of things like personal-hygiene items, diapers, first-aid kits, and any and all medical equipment.
After securing a little garage at the Polish Hall at 10960 104 St., Lukaszuk put out the call on social media, saying he and Stelmach were collecting these things and were going to ship them to Ukraine.
"I kid you not, we're there with this little garage and people start coming and coming and coming," said Lukaszuk.
Needless to say, there were more donations than the little garage could handle, so someone lent them a warehouse, which quickly filled up as well.
"So we have all this stuff," Lukaszuk says laughing, "and Ed and I look at each other and say, 'What now?' "
Challenged by Stelmach to get a plane, Lukaszuk used his contacts to arrange for a Boeing 787 from Poland's LOT airline.
"I called up Ed and I said, 'I got an airplane, now you have a job. You have to fill the airplane with fuel,' " Lukaszuk said.
Which, through his connections, Stelmach did.
Now with the plane coming in, Lukaszuk knew there were empty seats and thought what if they put some refugees on it, and after another couple of phone calls, 67 refugees arrived and were matched with families, and the next day the plane left with the medical equipment.
After that, they would ship 48-foot cube containers filled with donations to Ukraine once a week and they shipped eight of them in total. What they couldn't ship due to regulations they donated to local charities.
"Everybody does the best they can, and so did we," Lukaszuk said.
Tragically two volunteer drivers trying to deliver supplies from Alberta near Mariupol were killed back in April.
Lukaszuk and Stelmach are now focused on raising money for things that can be purchased in Europe and sent to Ukraine, as opposed to shipping them there from here.
Anyone interested in contributing can donate to the Canadian Polish Historical Society or the Ed Stelmach Community Foundation.
Edmonton Journal Headline News
Sign up to receive daily headline news from the Edmonton Journal, a division of Postmedia Network Inc.
By clicking on the sign up button you consent to receive the above newsletter from Postmedia Network Inc. You may unsubscribe any time by clicking on the unsubscribe link at the bottom of our emails. Postmedia Network Inc. | 365 Bloor Street East, Toronto, Ontario, M4W 3L4 | 416-383-2300