June 9, 2022
Politics latest news: Boris Johnson accused of launching 'back of the envelope' policies as he seeks to reset premiership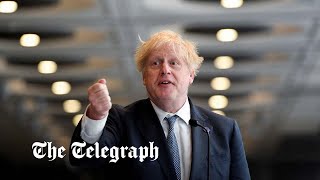 Boris Johnson was accused of launching "back of the envelope" policies as he sought to reset his premiership with a wide-ranging speech.
Speaking in Blackpool, Mr Johnson labelled the UK's rising tax burden an "aberration" and said the overall tax burden was now "very high" and must be tackled "sooner than later". 
Mr Johnson did not offer any specifics on how he will reduce the burden but said the Government will cut taxes when it is "sensible" to do so. The PM's speech featured a handful of housing policies as its centrepiece, including an extension of Right to Buy.
Lisa Nandy, the shadow levelling up secretary, said: "You can't solve a housing crisis with back of the envelope policies that have no realistic chance of success."
Sir Ed Davey, the leader of the Liberal Democrats, insisted "nothing" would work as Mr Johnson seeks to win back the British public after winning Monday's confidence vote.
Mr Johnson also effectively ditched a 2019 Tory manifesto pledge to build 300,000 new homes a year by the middle of the decade as he said he could not give a "cast iron guarantee" that the target will be hit.