July 13, 2022
Russia Will Go All Way to Warsaw if U.S. Arms Ukraine More, State TV Says
Russian state TV host Olga Skabeyeva has suggested that U.S. military support for Ukraine could see the war spill over into a conflict between Russia and NATO.
During a broadcast of 60 Minutes on Tuesday, Skabeyeva gave her take on the shifting aims of Vladimir Putin since the start of the full-scale invasion of Ukraine on February 24.
"Initially we just planning to liberate only those who live in Donbass from the yoke of the Nazis," she said on Russia's Channel-1, referring to one of the Kremlin's justifications of the war which has been dismissed internationally.
She then went on to criticize the latest deliveries of "western weapons" to Ukraine. Last month, the U.S. started sending Ukraine the M142 High Mobility Artillery Rocket Systems (HIMARS) which Kyiv says have already made a difference on the battlefield.
The weapons can hit targets at a greater range than the M777 howitzers, which the U.S. has also given Kyiv. Pro-Kremlin figures have expressed their concern at the weapon systems which have reportedly caused significant losses of troops and equipment, especially as the U.S. has pledged even more military support for Ukraine.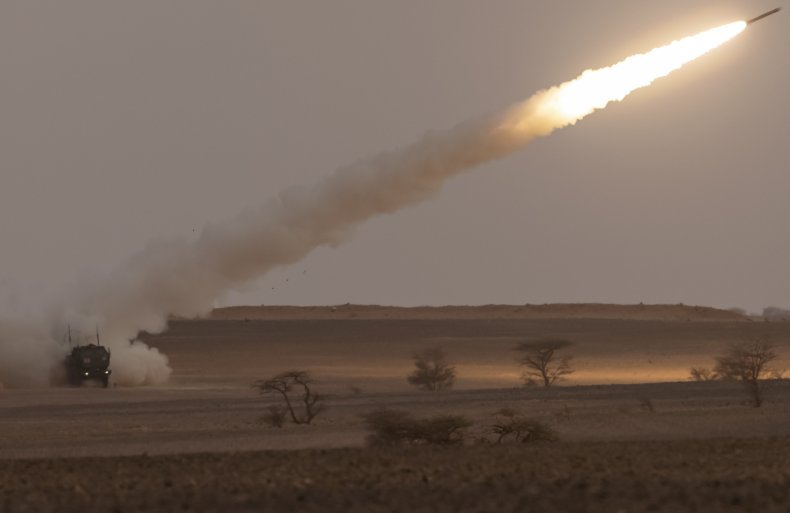 "If God forbid, Americans deliver missiles that can travel 300 kilometers (186 miles), then we simply can't stop," Skabeyeva said, "We'll go all the way to Warsaw."
As part of NATO, any targeting of Poland by Russia would spark Article 5, which states that an attack on one alliance member is an attack on all, and thus would spur a response. Newsweek has contacted the Polish foreign ministry for comment.
Skabeyeva has previously framed the Ukraine war as a confrontation between Moscow and NATO and even a sign that "World War Three" had started. Guests on her program have boasted about Russia's nuclear capabilities and even suggested that western countries which back Ukraine could be targets for Moscow's missiles.
In the same segment from Tuesday, which was tweeted by journalist and Russia watcher Julia Davis, one panelist, the political scientist Mikhail Markelov, said that Russia should "seriously think about liquidating the Nazi leadership of this country."
In his view, this should not be restricted to Ukrainian president Volodymyr Zelensky and his inner circle, but also "the parliament and the entire government that is committing total genocide against its own people."
Davis tweeted, "Putin's spokesman Dmitry Peskov claimed that Russia's war is not against the Ukrainian people, but against their government. Propagandists on state TV continued that train of thought, urging Russia's military to kill the entire Ukrainian government, including President Zelensky."