June 26, 2022
Schulz floats more educational assistants, mental health support in schools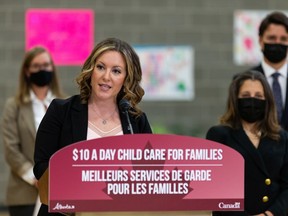 UCP leadership hopeful Rebecca Schulz says she would consider boosting education funding if elected premier.
In an interview Saturday with Postmedia, Schulz said she would commit to more educational assistants in K-12 classrooms, and more mental health support programs for students in schools.
"I really feel strongly that we need to do some things differently in education," she said, adding she would "look at" an increased budget line although she didn't offer any specific dollar figures.
"We have to make sure that there is accountability, but then we also have to make sure that there is funding to address some of the needs in the classroom," she said.
Schulz said her platform would look at pilot programs offering wraparound youth mental health supports, "recognizing that schools are at the hub of the community."
Her proposals would follow on the recommendations of the UCP government's Child and Youth Well-Being review, which gathered information over about two months in mid-2021 to determine how the COVID-19 pandemic has affected children and youth. The report noted that health and mental health professionals reported "increased stress, anxiety, grief, depression, eating disorders, self-harm, suicide and suicidal ideation, and substance misuse among children and youth."
The provincial government has said it's taking several new steps in response to the panel's 10 broad recommendations, including expanding "prevention and early intervention supports" like virtual counselling and in-school supports.
Alberta is set to be flush with cash from high oil and gas prices, and could see at least a $10 billion surplus. When asked what she would do with that extra money, Schulz focused on saving and paying down debt, especially when interest rates are high and the province is paying more to service that debt.
"We have to have a practical plan to pay that off, and I will have that in my platform," she said. However, with affordability issues top of mind, Schulz said she would be looking for ways to support Albertans.
Fellow leadership candidates Rajan Sawhney and Leela Aheer have promised to re-index Assured Income for the Severely Handicapped (AISH) payments to inflation. Schulz said Saturday she would reconsider it.
"This is something that is important, especially at a time right now when costs are going up, and if it makes sense, I'll do it," she said.
When asked if she would switch gears or carry on with the UCP's plan to revamp public health care, Schulz said private health-care providers have long operated in the province and most Albertans just want to see shorter wait times, especially for surgery. She acknowledged Albertans want to know they have local family doctors and paramedics, but pointed to fixing processes and red tape in the health-care system.
"I do believe that frontline workers have the answers to many of those questions."
The UCP had been working to save $2 billion in doctor pay after it came into office in 2020, but Schulz said now, the government needs to repair relationships with doctors, and doctors understand a need to curb growth in compensation.
When asked if she would continue funding the Canadian Energy Centre, known as the war room, Schulz said the province has to keep fighting for its energy sector and telling its story.
"I'm not going to commit to ending the war room."
Schulz worked for three years under Saskatchewan premier Brad Wall, and said during that time she learned how important good communication is.
"You can have a government that is fiscally conservative and wholly committed to economic growth, but also be compassionate and show common sense when making decisions and be able to communicate those decisions well," said Schulz.
Edmonton Journal Headline News
Sign up to receive daily headline news from the Edmonton Journal, a division of Postmedia Network Inc.
By clicking on the sign up button you consent to receive the above newsletter from Postmedia Network Inc. You may unsubscribe any time by clicking on the unsubscribe link at the bottom of our emails. Postmedia Network Inc. | 365 Bloor Street East, Toronto, Ontario, M4W 3L4 | 416-383-2300