July 5, 2022
UCP leadership candidate pledges to open riding nomination contests if elected premier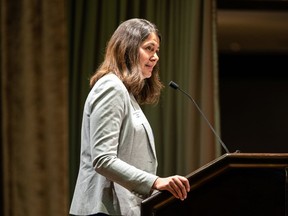 During a rally in Edmonton Monday night, UCP leadership candidate Danielle Smith said she would reopen riding nomination contests if elected premier of Alberta this fall.
"I will pledge to you as well, if any of the local ridings wants some of those ridings reopened because they don't believe that they've been fair or they believe the candidates have been disqualified inappropriately, we will address that when I'm elected," said Smith.
Smith's pledge comes after Time Hoven, an Eckville-area farmer, said he was unjustly disqualified from challenging the Rimbey-Rockey Mountain House-Sundre riding nomination, a district currently held by MLA Jason Nixon, now the government's finance minister after Travis Toews stepped out of cabinet to run in the leadership race.
Smith held a rally at the west Edmonton Double Tree by Hilton hotel Monday night as she continues her bid for UCP leadership.
She was introduced and endorsed by Peter Guthrie, MLA for Airdrie-Cochrane, and walked into a standing ovation from more than 200 people who showed up to attend the "Unity. Liberty. Autonomy." rally where Smith spoke about what she would do as Alberta's leader, and met with attendees.
She doubled down on her promise to enact the sovereignty act in the legislature if she were elected premier this fall. The act calls for the province to declare itself a sovereign jurisdiction within Canada that can bat down federal law if it's not in Alberta's interests.
"And in addition to that, we will not enforce any federal law that violates the rights and freedoms of our Alberta residents," she said.
Smith pointed to the federal Emergencies Act and said if it was ever brought back she would not enforce it in Alberta. The Emergencies Act was invoked by the federal government in February and said it was necessary to end weeks of protests that closed border crossings across the province and the truck convoys storming Parliament Hill in Ottawa.
She added they need to restore the "Alberta advantage" by lowering electricity prices and the cost of heating homes, especially in the Alberta winter.
Smith is scheduled to bring her rally to Red Deer on Wednesday.
Edmonton Journal Headline News
Sign up to receive daily headline news from the Edmonton Journal, a division of Postmedia Network Inc.
By clicking on the sign up button you consent to receive the above newsletter from Postmedia Network Inc. You may unsubscribe any time by clicking on the unsubscribe link at the bottom of our emails. Postmedia Network Inc. | 365 Bloor Street East, Toronto, Ontario, M4W 3L4 | 416-383-2300